At the University of Southern California in 2011, two undergraduates Sean Rad and Justin Mateen had an idea for an online game. The interface would resemble a deck of cards, but the cards wouldn't show suits or numbers. They would show a woman or a man. You could swipe left for "no" or right for "yes".
The game was Tinder.
"Nobody joins Tinder because they're looking for something," Rad told Time in 2014. "They join because they want to have fun. It doesn't even matter if you match because swiping is so fun."
It's 2019, and people are having a lot of fun. Tinder claims to have hosted more than 30bn matches, with 2bn swipes a day and a million dates a week. Badoo users aged 18 to 30 spend an estimated ten hours a week on dating apps. The percentage of 18 to 24-year-olds (single or otherwise) dating online nearly tripled between 2013 and 2015, rising from 10 per cent to 27 per cent.
And for many, dating apps are becoming more than just a game. About 22 per cent of straight couples and 67 per cent of gay couples now meet online. These days, 59 per cent of Americans believe online dating is a good way to meet people, while just 23 per cent think users are desperate.
However, as dating apps come to facilitate not just one-night stands and mindless conversations but increasingly relationships and would-be relationships, a strange ecosystem has arisen. One where an increasing number of young people are relying on dating apps, which are designed like games and which exist to make money, to help them form serious relationships. In this ecosystem, do dating apps really want us to find love?
The possibilities for finding your perfect match certainly seem endless. Whether you want to meet young professionals (Inner Circle) or want women to make the first move (Bumble), whether you harbour ambitions to appear on the next season of Made in Chelsea (Toffee) or want to explore your kinks (Feeld), whether you prefer to nuzzle facial hair (Bristlr) or seek your perfect biological match (DNA Romance), whether you want to share conspiracy theories about crop circles and chemtrails (Awake Dating) or just do things the traditional, old-fashioned way (Tinder), there is something for everyone. You even, as of this month, have a chance of finding a partner if you are a cow (Tudder).
But despite such countless options, an increasing proportion of the UK is single. The number of single people has risen by 31 per cent in the past 15 years.
Recently, the banking company Revolut released a faux-sympathetic advert addressed to "the 12,750 people who ordered a single takeaway on Valentine's Day". It ended: "You ok, hun?" Before criticism turned to the revelation that the company had made up the data, anger was directed at the tone of the advert. It was a window onto a society where, despite the growing number of single people, just being single can be seen as a symptom of discontent.
It is true that many very unhappy people are single: more than 41 per cent of UK adults who report the lowest levels of well-being.
But some single people feel unhappy partly because it's assumed they should. Paul Dolan, a behavioural scientist at the LSE, accounts for this oddness in his book Happy Ever After, in which he describes love and marriage as "narrative traps". "Think back on your bedtime stories as a child," he writes, "and I bet these words are lodged somewhere in your brain: '…and they fell in love, got married, and lived happily ever after.' These imagined happy endings stick with us as adults."
Viren Swami, social psychology professor at Anglia Ruskin University, argues that dating apps often work as outlets to pursue such "happy endings".
"The pressure to be in relationships," Swami says, "and the perception that there is something 'wrong' with remaining single, can create a drive or need to be on dating apps."
But far from easing the discontent of being single, many young people feel that dating apps have amplified it. "Dating apps have added to the pressure of finding someone," says 24-year-old account manager Adam George. "It feels like there's no excuse – it's all there."
George has been single for 18 months, but feels drawn to dating apps despite the joy single life has brought him. "I feel like I do have some weird sense of obligation to meet someone," he says. "Even though this is the longest I've ever been single and it's probably the happiest I've ever been."
Tiffany, a 22-year-old who works for a travel startup, agrees that dating apps make it more difficult to be content in single life. "It's funny," she says, "because being single is your natural state but being in a relationship is an add-on to you, so it's quite odd that the reverse is considered more unusual."
While dating apps enable us to bypass the serendipity of "true love" and instead to actively seek the perfect relationship, what keeps many of us engaged, once drawn in, is a phenomenon that breeds inefficiency in the search. The psychologist Michael Zeiler found in 1971 that pigeons peck at a button nearly twice as much when it produces food pellets at an unpredictable frequency than when the rewards are foreseeable. Like pigeons, our swiping behaviour is reinforced – as in we keep swiping – when we don't know when our next reward will come, if at all.
Think this sounds far-fetched? Tinder's Chief Strategy Officer Jonathan Badeen admitted last year that the swiping feature was inspired by a 1948 experiment by Burrhus Frederic Skinner. The psychologist used positive reinforcement to train pigeons to peck more, and in particular patterns, in the belief that the amount and way they pecked optimised the delivery of food.
Just as it is impossible to tell when a slot machine will pay out again, gamified dating apps leave you eagerly awaiting another match. There's a reason why the people who have swiped right on you don't appear consecutively at the beginning of an app session. Sure, it would be more efficient and it would bring potential matches together more quickly. But it would be way too predictable. Variable rewards are part of a greater, and somewhat, paradoxical mission – not necessarily to find you a perfect match, but to keep you on the app.
We could hardly expect it to be otherwise. Tinder's free service, for instance, explicitly restricts the number of likes a user can give out each day without paying for more. But it seems to go deeper than this. Results from an experiment conducted last year by communication scientists Cédric Courtois and Elisabeth Timmermans suggest that Tinder's non-paying users don't necessarily create more matches or see more attractive profiles when they engage in more swipe activity (the number of likes a user gives, weighted by the number of profiles they see). Tinder, the paper argues, seems to deliberately limit further communication by preventing attractive profiles and liked profiles from running out too soon.
"If you're using Tinder, the app wants you to be satisfied with using it," Timmermans, one of the paper's co-authors, told us, "but it doesn't want you to be too satisfied that you're not likely to be paying for it.
"Maybe we are falling for a matching service that is not really interested in matching us, because in a perfect world if we would all find our perfect match then they're losing their clients."
A paper published last year in the Journal of Marketing Research examined this strange quirk of dating apps. Unlike a typical app whose effective performance increases customer loyalty and lengthens the customer's time on the app, dating apps face a trade-off. Good performance can allow a dating app to charge a higher price and expand its market share. But it can also shorten the loyalty of the customer: if you find a suitable match, you are likely to leave the market. Terrifyingly, this means it may sometimes be in the interest of dating apps for you to stay single.
Alex Durrant, who runs the dating app JigTalk, believes dating apps shift their priority when they move from a growth mindset to a focus on revenue.
"In the early stages, when there are high growth periods," Durrant says, "dating apps need to work; they need a real positive impact in the early stage. But when dating services hit the point where they are listed on the stock exchange, they experience a big shift, like any company. Because it means suddenly they're accountable to shareholders and profit, and unfortunately that's all that matters to them."
The biggest player in the online dating world is Match Group, which owns more than 45 dating sites, including Tinder, Hinge, OkCupid, and PlentyOfFish. Match Group is itself owned by the holding company InterActiveCorp (IAC), which also owns Vimeo, The Daily Beast and Ask.com. For all the easy attraction of the "fun college kids get rich" narrative, Tinder was founded in an incubator program financed by IAC, where Rad was an employee. IAC were no newbies to the online dating world.
In 2017, Match Group made $1.3bn in revenue for IAC. The group announced last month that its revenue had risen to nearly $1.73bn in 2018. Its financial success is down largely to the golden child, Tinder. The app boasts 57m users – which includes 4.3m who pay for the service, more than half of Match Group's total global subscribers of 8.2m. Tinder has added 1.2m subscribers in the past year alone, and nearly doubled its revenue year-on-year to make $805m in 2018. This is nearly as much as the $872m made by the rest of Match Group's portfolio combined.
The remarkable thing? Tinder's 4.3m subscribers pay for a service which doesn't seem to have a measurable success rate at doing what many of them want it to do: create a platform for stable, happy and long-lasting relationships.
In a Twitter tirade against an unfavourable Vanity Fair story entitled Tinder and the Dawn of the Dating Apocalypse, by author and filmmaker Nancy Jo Sales in 2015, Tinder tweeted that it had made eight billion "connections that otherwise never would have been made". Does this mean anything? Presumably they meant that there have been eight billion matches on their app: but what measure of success is this? I have 333 matches on Tinder, but I haven't been on a single date. Are those connections meaningful in any way? (A further tweet put the number of marriages they had created at "a shit ton", but it is unclear what this number is.)
Another dating app, Hinge, has introduced a "We Met" feature, which automatically recognises a phone number – and then sends a message to each party a few days later to ask if they went on a date and if they are planning a second date. But, again, what does this tell us about the success of a match? It tells us nothing about the matches of George, for instance, whose dating routine is as follows: "Match with someone online, talk to them a lot online, think I really like them, meet them once, get really drunk, fall in love with them, think they're the one, go away, have a second date, and think: 'Oh, I don't like them at all.'"
Some apps do give more specific figures. At the start of last year, Louise Troen, global brand director of Bumble, claimed there had been more than 20,000 marriages and 6,000 babies made through her app. But this claim is itself imprecise. Just this year that figure was different – not more than 20,000 marriages, but more than 20,000 marriages and engagements.
Notwithstanding the exact figures, because inevitably dating apps such as Bumble treat their data as proprietary it is hard to subject the numbers to any scrutiny: have they been extrapolated and, if so, from what? And, as Swami puts it: "How are we assessing what's really a good outcome? Because you could be in a relationship that's bad for you."
Swami doubts the capacity of dating apps effectively to engineer successful outcomes with algorithms which essentially matchmake based on similarity and compatibility. "There are so many factors that go into dating interactions," he says, "and especially in face-to-face meet-ups.
"The other related problem is the information people use on an online dating site may not be necessarily based solely on similarity. So, for example, an online dating company might have matched me with someone else based on our similarity, but I might use that information very differently from the way the company intended me to. Particularly if my impressions are skewed by a suitor's physical appearance."
Another complicating factor is the "infinite swipe" effect – the sense that there is always one more potential match, that the pool is infinite. "I think a lot of my friends are the same," Tiffany confirms. "They have the apps, they scroll through them without ever really having the intention to go on a date. It's probably a self-esteem thing and [a desire for] just general attention."
Why still use dating apps then? "I guess there's a glimmer of possibility that you'll go on an app date that'll work out," Tiffany says. "You'll hit the jackpot with someone who isn't a freak, who won't cut you up into little pieces, who will be nice, and also have good music taste. It just feels quite slim."
Attached to this is a sense that dating apps are something in which young, single people should be engaged. As dating apps become more normalised, single people are increasingly expected to be members of a digital world where, for the most part, singledom is something to be mended and where there are superficial rewards on the way. The disjunction this expectation creates between what single people want and what they feel they should want can be striking.
"I'm at the stage of giving up dating," George says, "because I need to be on my own and be happy with myself and stop forcing it. Freedom is what makes me happy, not having one person I put everything into."
It is a gear shift from a confession George made a few minutes earlier. "I know I'm only 24, but I feel like I might die on my own."
Single people like George, who feel the pressure for a 'perfect life' and turn to the gamified world of infinite swipes, should ask themselves two things. Is the perfect life really what they want? And are dating apps the best way to find it?
This story was prompted by members' contributions at a recent Tortoise ThinkIn about dating in the digital age.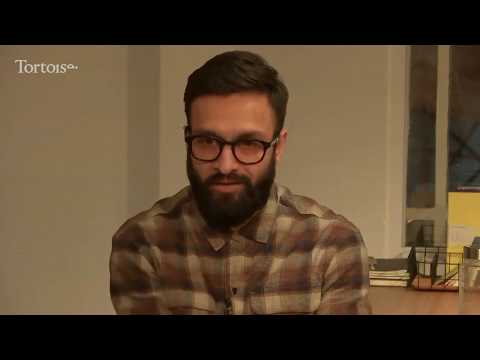 Illustrations by Ester Mejibovski