By Giles Whittell
As Theresa May prepares to leave Downing Street, one of her most senior former advisors has said British politics is "fundamentally broken" and the UK is no longer functioning as a union.
Breaking a long silence, Fiona Hill, May's former chief of staff, said the failure of both main parties to generate new ideas or govern in the country's long-term interests has left politics "in a really awful place".
Her assessment is the first of its kind from inside the tight circle of advisors that brought May to power. It gives a starkly downbeat view of Britain's prospects during the crucial months ahead when whoever takes over as prime minister must reach a new compromise with the EU or leave the union without a deal.
As for her own performance as a key member of the team that May trusted to bring her an enhanced majority in the 2017 election, Hill said simply: "We failed."
Asked how she saw the next six months playing out in Conservative party politics, she said: "I'm really pretty gloomy about it, as everyone else is. There's just structural problems now in Westminster," the former Sky journalist said at our ThinkIn on Britain's role in the world.
Britain's role, she added, is widely viewed as uncertain and declining: "I've spoken to ministers all over the world who say to me, 'forget it, the UK's over, it is basically China and Russia'."
Her words will strike an ominous chord as Beijing warns London to "know its place" and stop interfering in Hong Kong, where it regards the continuing mass demonstrations against Chinese control as an internal matter.
Hill resigned in June 2017 at May's request after a disastrous election campaign that cost the Conservatives their majority and left them at the mercy of the Democratic Unionist Party of Northern Ireland.
Her departure, along with that of her fellow chief of staff Nick Timothy, was demanded by Tory backbenchers who threatened an immediate leadership challenge if May did not oblige. Since then Timothy has voiced his moderate Brexiteer views as a Daily Telegraph columnist. Hill, a Remainer, has kept her counsel until now.
At the Tortoise event, where the former head of MI6 Sir John Sawers was also a speaker, she suggested the biggest structural flaw in British politics was an absence of thoughtful policymaking. "The truth is, thinking happens in politics when a good party is in opposition…The problem we have now is that we have an opposition party that is not doing that thinking. That may well be because it's consumed with Brexit, but my hunch is it's partly that and partly that [Jeremy] Corbyn's team doesn't really want to get serious about fixing the ills of the country."
On her own party, whose traditional base is now split between the Tories and Nigel Farage's Brexit Party, Hill sounded despairing: "I just don't even know what to say about it."
One result of this failure she perceives on both sides of the aisle has been a breakdown of the process by which Britain traditionally defines its international role. "We've not had a foreign policy for a very long time," Hill said, lamenting the government's failure to capitalise on the soft power it could wield as an aid donor through the Department for International Development. "Why are we not telling the world that's who we are and that's what we stand up for?"
Asked if she believed the United Kingdom was still functioning as a political entity, she cited the 2017 result in which the Tories won the popular vote and lost their majority. "Clearly it's not."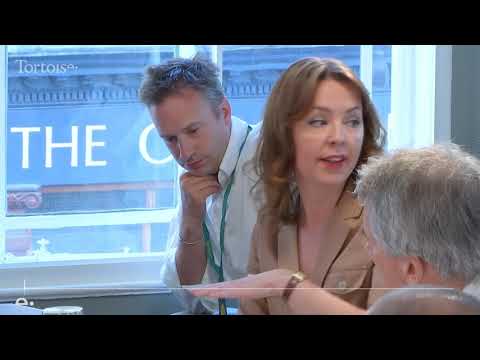 Photography by Getty Images