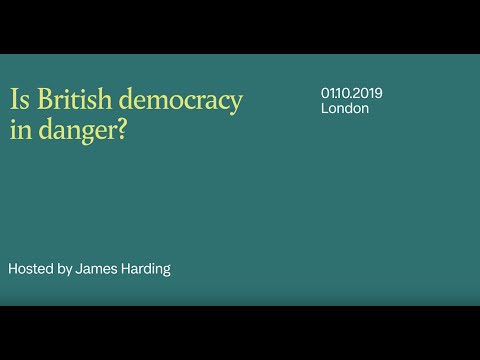 In the course of the last couple of months, the government suspended parliament because it threatened to obstruct its plans. A Treasury official was summarily sacked on suspicion of disloyalty without evidence or due process. The government purged 21 party members that disagreed with it. The Supreme Court ruled that the Prime Minister had acted unlawfully and misled the Queen, the House of Commons and the Public. In turn, the Government questioned the authority of the Supreme Court. And the Prime Minister has signalled that he will put the 'people's priorities' ahead of the law passed in Parliament.
As journalists, we used to go abroad to cover stories like this.
British politics is more alarming, but also more animating than at any time we can remember. It's a political crisis. But it could be more than that. It could be the start of something.
At Tortoise, we think the times invite us to be more than just observers. What can we build for the future out of the arguments that currently divide us? At the very least, a better understanding of our political system. Possibly, a more representative legislature and a more accountable government. And, if we put our minds to it, a clearer set of rules, rights and responsibilities.
In May, we debated – not for the first time – Tortoise's position on Brexit. We asked: who cares? Who's going to be swayed in their largely fixed views on the opinion of a new little newsroom in London? Surely, we should be looking further down the road. Surely there are longer-term lessons for our democracy from a process that has pitted people against Parliament, that has exposed the recently-complexified process of who gets to call a General Election and when, that has unified us in one respect only: namely the sense that the system wildly privileges some voices over others.
And so, we held our first ThinkIn on the British constitution. Is it time to set out The Rules? The UK is one of only five countries in the world – only three of them democracies – that doesn't have a written constitution: a codified constitution that sets out in an organised, premeditated way its system of law-making, electoral representation and government; the responsibilities of those in power; the checks and balances within the system; and the rights of the citizens.
At the time, a room full of Tortoise members along with the two former Presidents of the Supreme Court – Lords Neuberger and Phillips – joined us, as did Lord Butler, private secretary to five prime ministers and former head of the civil service, alongside constitutional historian Vernon Bogdanor. One of our editors, Matt d'Ancona set out what we heard at the ThinkIn and, as a result, what we thought.
On Tuesday, we were back at it. This time, the beginning of a more concerted process, starting in London and moving around the country.
We heard from Rob Murray, partner at Mishcon de Reya, lawyers to Gina Miller in both cases before the Supreme Court which challenged the way the government was trying to run the Brexit process. Miller won the first eight votes to three. Last week, all 11 justices sided with her. Why? The judges ruled that the UK is a representative democracy. Sovereignty lies in Parliament. It is there to scrutinise the work of the Government. It backed the principle of parliamentary accountability. It made an events-based analysis.
The Supreme Court did not quote from an article in a piece of constitutional scripture. On another day and in another case, the justices could rule differently. They could have ruled the case non-justiciable – none of its business – as Downing Street argued it should.
Professor Meg Russell, a constitutional expert from University College London, argued in favour of a political constitution over a legal constitution. Robin Butler explained how the Cabinet Office manual guides the hands of those in Government. Vernon Bogdanor called for more referendums (others wanted just one more.) Campaigner Lara Spirit wanted the voting age dropped to 16 and a new 'intergenerational settlement'.
Hari Collins, 15, was there too. A few years ago, he wrote a constitution for the world he was creating in the video game Minecraft. Having done that, he turned his hand to an 84-page constitution for what is currently called the United Kingdom. He set out radical possibilities, abolishing the monarch, replacing the House of Lords with a Senate, disestablishing the Church of England.
Once you start thinking about The Rules, things really open up. What about the voting system? Is first-past-the-post fair? What about the voting age – was it right for 16-year-olds to be allowed to vote in the Scottish referendum but not in the EU referendum or the General Election? What about the Fixed Term Parliaments Act? Why can a Prime Minister be brought down by a simple majority in a vote of no confidence (followed by 14 days of chaos) but only be able to call an election with two-thirds majority in Parliament? The questions keep coming.
Our democracy begins to look like the inside of a British kettle – a messy accumulation. It's a combination of events, precedents and expedients, a mix of convention and common sense, an uncodified constitution.
Let's be clear: many people like it that way. It's flexible. It changes with time – and the needs of the times. And any attempt to write down the rules right now would be susceptible to the angry forces in our politics, not to mention the eagerness of so many politicians to accumulate executive power.
But Beyond Brexit, Britain has a chance not only to reimagine its place in the world, but also itself.
We believe that the best starting point is a system of organised listening. We are taking our ThinkIns on a tour of the country to hear what today's citizens want in the future from their politics. What changes do we want to the rules – and who makes them?
As you might guess, we're not in a hurry. To do this well, it will take time and it will take our members' collective brain power. And we can't tell you where we end up. But, like the tortoise, we won't stand still – and we won't stop.
What you can do
We're going to spend the next few months diagnosing the problems we're trying to solve, and collecting ideas for solutions. All of this will be in an open conversation with our members.
Join us and contribute your ideas and experiences that might help us better understand this.
Come to one of our ThinkIns (more will follow, including those that we hold during the general election campaign – when it comes).
Join our members panel that we are launching to help us steer this project. We will send you regular updates and seek your expertise and opinions as we go. Email: polly@tortoisemedia.com
The Tortoise Network will be a big part of this project: the Network is formed of the partners that we work with to distribute memberships of Tortoise in order to reach people who aren't normally given a voice in these conversations. They include schools, university groups, charities and campaigners. If you're interested in your organisation joining in, email annabel@tortoisemedia.com.
Upcoming ThinkIns
• Give the people what they want: Representative v direct democracy. (London.) Book here.
• Are British communities living separate lives? (Birmingham.) Book here.
• Will the UK survive Brexit? (Belfast.) Book here or here.
• Brexit night: What just happened? (London.) Book here.
When an election is called we will announce a national tour to take this subject on the road again.
Photographs Getty Images